Alwa's Collection includes Alwa's Legacy and Alwa's Awakening for the Nintendo Switch on one physical cartridge.
PREORDERS CLOSE ON SUNDAY, OCTOBER 17TH 2021 AT 11:59PM EASTERN TIME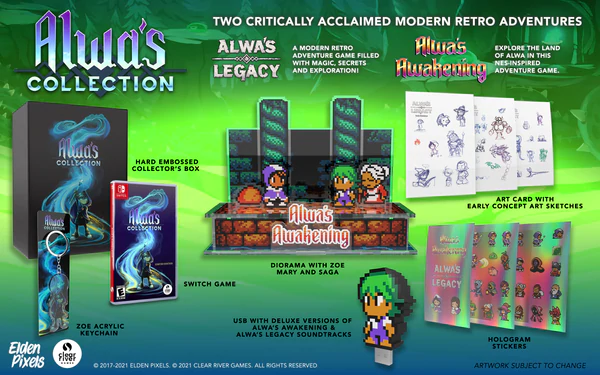 This is not a numbered release, and thus is not a part of the Limited Run Games Collection. We are distributing this title on behalf of Clear River Games. Missing out on this release will not compromise a complete Limited Run set.
Alwa's Collection Limited Edition Includes:
Special CE box with O-sleeve
Alwa's Collection: Limited Edition physical game for Nintendo Switch
Hologram sticker sheet x 3 (packed inside the game case)
Art card x 3 (early concept art sketches)
Acrylic keychain of Zoe
Diorama set with packaging
Pixel Character USB stick with Deluxe versions of the Alwa's Awakening and Alwa's Legacy soundtracks. The USB can also be part of the diorama)