Shadow Man Remastered is on a region-free physical disc for the Playstation 4. Also works on the Playstation 5. This is an open pre-order for a limited time.
PRE-ORDERS CLOSE ON SUNDAY, MARCH 27, 2022 AT 11:59 PM EASTERN TIME.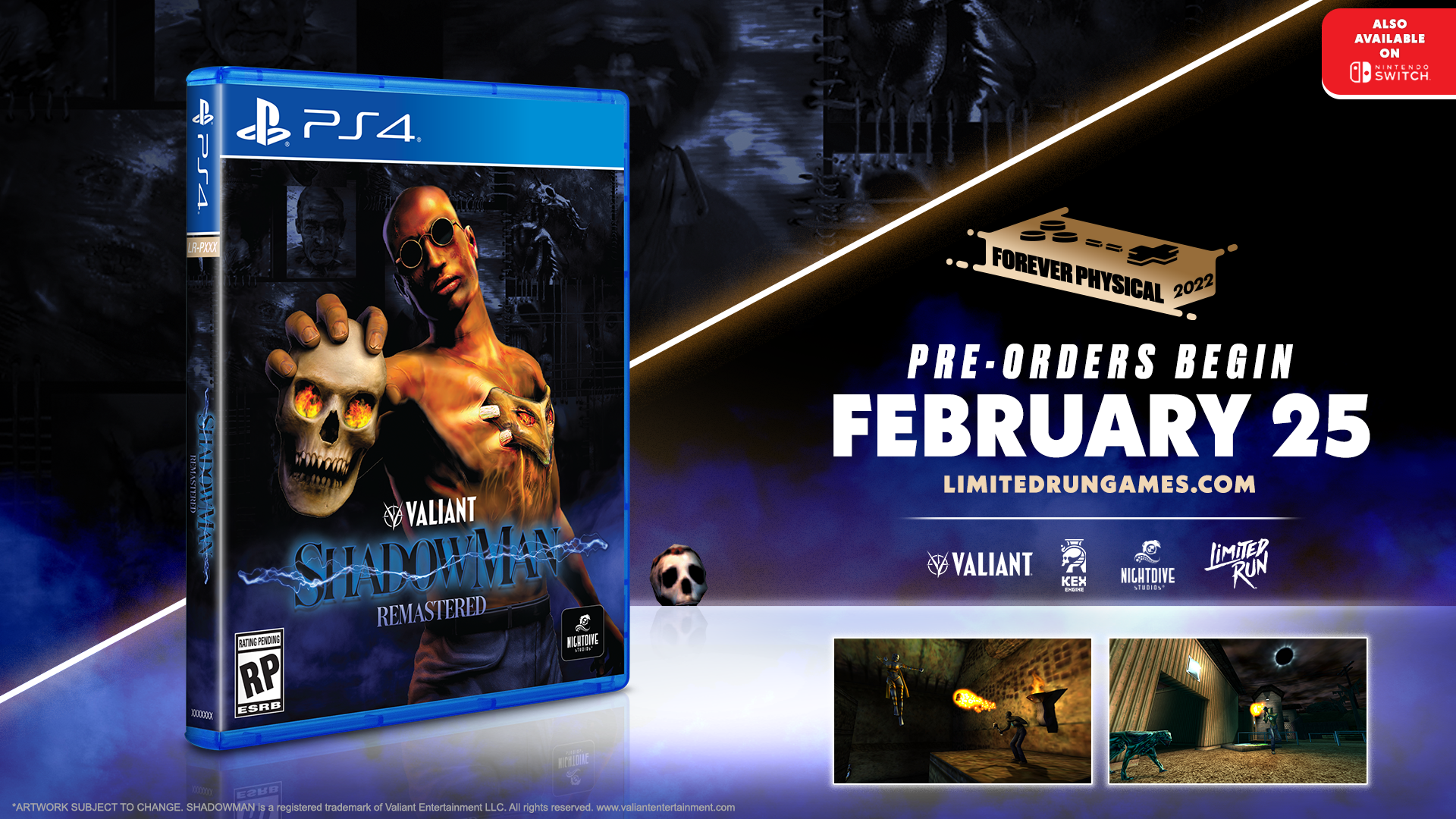 Shadow Man: Remastered is a complete overhaul of the classic game with restored, previously cut content!
3 New Levels:
"Summer Camp, Florida" (Day and Night)
"Salvage Yard, Mojave Desert" (Day and Night)
"Asylum Station 2 - Experimentation Rooms"
New Audio (from the original games composer, Tim Haywood):
Remastered music and SFX
New music and SFX for the restored levels
Restored cut/unused voice dialog in levels
Art Updates:
HD Textures for all levels and objects
Nvidia Intro Cutscene Textures
HD HUD and inventory icons plus a new icon for the Shadow Gun
Restored unused animations
Restored several cut and censored models from the original levels
N64 Gad Icons
Gameplay Improvements:
New weapon wheel to select weapons faster as time is slowed down
Improved controls
Improved destructible objects using Bullet Physics
Auto targeting
Tweaked/improved AI
Levels rearranged as originally intended
A ton of fixes across the entire game to each level from object to geometry fixes
Fixes to the localization for English, French, German, Spanish, and Italian
Over 30 achievements
New Weapons:
A second Violator (Consistent with the N64 version)
Sawed-off Shotgun (replaces the second regular shotgun)
New model and many sound variations for the Shadow Gun
New Enemies:
Yort
Yort Floater
The Seraph Queen
Seraph
Dead Worm
Unused zombie restored in Station 2
One arm Tenement Zombie.
Rendering Improvements:
Dynamic Per Pixel Lighting
Clustered Forward Shadow Mapping
Order-independent transparency
New Post Processing Effects:
Ambient Occlusion
Antialiasing
Anisotropic Filtering
Motion Blur
Film Grain
Depth of Field
Secrets:
All the secrets from the N64/Dreamcast/PC included in this remaster
Plus many more to be discovered!
Genre: Action
# of Players: 1 player
Supported Languages: English, French , German, Italian, Portuguese, Spanish
PLEASE NOTE: There is no purchase limit on this item. This item is currently in manufacturing and artwork is subject to change. Products are typically not expected to ship until 4-5 months after the preorder window closes. Future production updates will be visible on the product page and your account page. All orders are considered final and can not be canceled.